Measuring the direction of the magnetic field, to get the full vector, is a bit more difficult than just finding the magnitude. Scientists must remember that light (or photons) has a wave nature as well as a particle nature. Waves have a preferred direction of travel and a particular vibration. Vector magnetographs analyze the directions of vibration of the light coming from sunspots and infer from that the direction of the magnetic field.
Pictured here, is the Marshall Space Flight Center's vector magnetograph. The co-aligned gold telescope (which views the Sun in the light of H-alpha*), allows observers to see solar flares within the magnetograph's field-of-view (solar flares are usually not detected in visible light).
*H-alpha light has a wavelength of 656 nm and is created within the chromospheric layer of the solar atmosphere.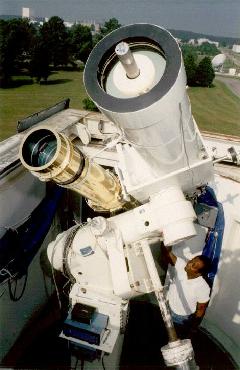 MSFC's prime observer James Smith, is picured here with MSFC's vector magnetograph
click on image for a larger version
(58 kB jpeg image)