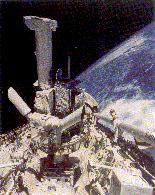 Click on image for larger version.
Spacelab 2, launched on the Space Shuttle Challenger on July 29, 1985, carried several solar instruments including the Solar Optical Universal Polarimeter (SOUP), the Coronal Helium Abundance Spacelab Experiment (CHASE), the High Resolution Telescope and Spectrograph (HRTS) , and the Solar Ultraviolet Spectral Irradiance Monitor (SUSIM).
The SOUP instrument was designed to observe the strength, structure, and evolution of magnetic fields in the photosphere and to determine the relationship between these magnetic elements and other solar features. It obtained a superb sequence of images showing the structure and evolution of the solar granulation.
The goal of the CHASE experiment was to accurately determine the helium abundance and to derive the temperature, density, and composition of the coronal gas from measurements of ultraviolet emissions.
The HRTS experiment studied features in the chromosphere, corona, and transition region using a telescope and spectrograph to observe emissions in the ultraviolet region of the solar spectrum.
SUSIM was used to determine both the long-term and the short-term variations in the total ultraviolet flux emitted by the Sun.